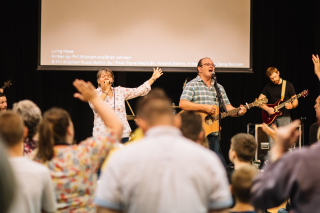 The service
On Sundays we have 2 in person services at the Gaer Christian Centre and our second service is also on Facebook LIVE.
9.30am - Interactive Family Service: This service will be a fun family interactive service which will be aimed at families with kids under 12. You will be seated around your own table as a family with fun activities to do, worship and the Word. Bring your own colouring pens and pencils! It will be a great time for the whole family!
11am - Service: Join us for a great time of worship, hear the Word and spend time together. (This service will also be live on our Facebook page)
Registration is needed for our in person services as space is limited. Visit the link below to register.
We can't wait to see you there!